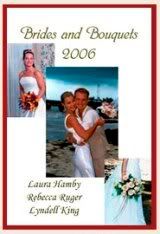 Contributing author: Lyndell King
Janie is at her wit's end trying to shepherd her twin sister past monumental pre-wedding jitters. Just two days before the fairytale wedding, the flower girl has chickenpox, there's vomit on the imported Italian napkins, and the bride's sunburned face is a peeling pomegranate.
As problems multiply, latent sibling rivalries surface. Janie enlists the hunky Best Man's help, but his insight into the sisterly tensions proves more than Janie can cope with. Can she overcome the hurdles to salvage her sisterly bond, snag the best man's affections and survive the ill-fated wedding, all while wearing a pink meringue bridesmaid's dress? Even Superman didn't have it this rough, and he wore his undies on the outside.
Available now from
By Grace Publishing